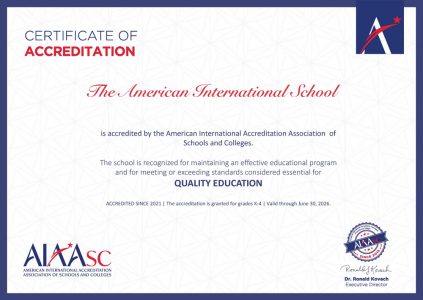 The official letter from the International American Accreditation of Schools and Colleges*
April 21, 2022
Dear American International School-Duhok,
This is to confirm that the most recent Full Accreditation Visit to your school resulted in an average score of 3.8/5.0 on the 49 items under our Five Standards. AIAASC commends American International School-Duhok on this high score and we are pleased that your team has fully completed the recommendations indicated in the final report.
The American International Accreditation Association of Schools and Colleges applies rigorous quality standards and validates the educational quality of schools through its on-site reviews conducted by highly-trained evaluators, therefore your score indicates that in addition to meeting rigorous standards, the American International School-Duhok is showing commitment to continual improvement through its strategic planning and can be trusted to provide students with the high quality of educational services promised.
Regards, Dr. Ronald Kovach
Executive Director American International Accreditation Association of Schools and Colleges
*College is a term for undergraduate university level education in American English.
Parents and other interested parties should note that at the American International School our progress is reviewed twice a year.  Dr. Ronald Kovach stated in writing that at AIS we are "passionate" about education and that as a school we are "unique" in that we are very ambitious in terms of how we follow the American Common Core system.
We have also been chosen to help coordinate the AIAA Hub where we actively share curriculum and ideas with AIAA schools and hundreds of other institutions around the world.
During their visit AIAA representatives were also highly impressed by the professionalism of our teachers, the level of our students and our new elementary school facilities that are under construction which include the following:
three fully equipped science laboratories
a computer laboratory
a Makerspace classroom
a music classroom
an art classroom
an auditorium
a large library
twenty-four classrooms
a rooftop greenhouse
sports and recreational facilities
a clinic plus a dentist's office
two cafeterias
a rooftop café
a school shop
Our new facilities are being built to the highest international standards in terms of design and furnishing. All classrooms will be equipped with interactive smartboards—no expense is being spared in terms of IT requirements.
————————————————————————————————————————–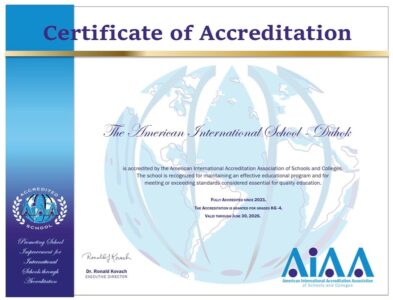 The American International School- Duhok is accredited by the Ministry of Education in the Kurdistan Region of Iraq and the American International Accreditation Association (AIAA).
AIS is committed to raising the standards of children's education in the region and providing students with all the opportunities to graduate from international schools. To that end, the school will seek professional partnerships with prestigious organizations and, at the appropriate time, regional accreditation from the United States.