Azreen Zavar Alomera 
Lead Teacher – Grade Three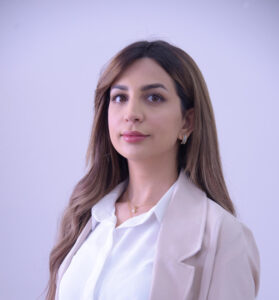 My educational background includes a university degree in Agricultural Engineering from Duhok University. This is my third year at the American International School, where I have been teaching science, literacy, and math. My passion for teaching began because of the influence of my mother, who was a fantastic teacher. My mother opened my eyes to the rewarding life of working with young children creating a welcoming and safe environment where all students can develop a love for scholarship. Her commitment to her students was unlimited, and she made sure that each student reached his or her highest potential not only as a student but also outside the classroom when facing real-world problems. Her teaching philosophy included the critical thinking skills that we all need in an increasingly complex world, and this emphasis on critical thinking is embedded in all my lesson plans and forms an integral part of the American Common Core syllabus that we all follow at AIS.
Havin Abdulbaseer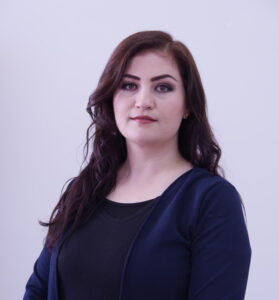 Lead Teacher – Grade Two
I am a Kurdish Canadian, and I was raised in Canada and currently live in Kurdistan. I began teaching elementary level in 2011, and for the past two years, I have been working at the American International School as a lead teacher in both grades one and two. I am proud to be a member of the AIS team, and I look forward to working with your children. I am thankful to have a fulfilling career that allows me to share my passion for education, working with children, and contributing to their cognitive and social development. My goal is to help guide my students to become kind, respectful, and responsible adults and help them find their passions, develop skills, and make full use of their talents. My philosophy of education is inspired by the quote, "It's not about teaching the child to read, it's about teaching the child to love to read," by Dr. Dahlia Hall. My goal is to inspire my students as they start their journey towards life-long learning.
Jien Germawi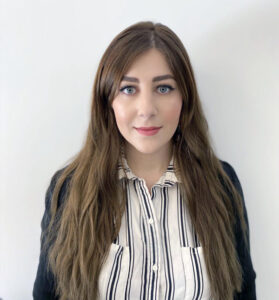 Lead Teacher – Kindergarten
I am presently working at the American International School. After growing up in the Netherlands, where I graduated from ROC Midden Nederland and having taught at a variety of schools in Holland, I moved to Kurdistan, where I have been teaching for the last several years. I am passionate about teaching methodology and have completed numerous workshops and courses that have enabled me to be on the cutting edge of modern methodology. For example, this year, I am responsible for our committee for staff training—an area where our school exceeds. I especially enjoy teaching young learners, and I am at present the lead teacher for kindergarten. I always enjoy educating our young learners. I love to see our students develop, each in their own unique way, being a concerned mother of two young children myself.
Lizan Tayib 
Lead Teacher – Grade One
I am a first grade teacher, and this will my second year at the American International School and my fourth year teaching first grade students. In first grade, we explore the world around us, learn new things and have fun. I grew up in a small town in Michigan in the United States, and I graduated from Washtenaw College with a Liberal Arts Degree. My philosophy is that teaching should never be a daily routine but rather an exciting new experience challenging students to explore, analyze, and think critically. For example, in our science classes, we are following the scientific research on viruses, which is not a typical subject in first-grade students.
Vena Ferhadi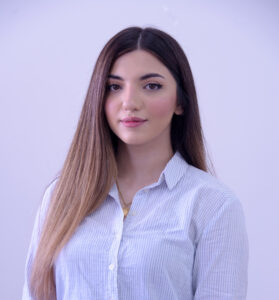 Lead Teacher – Grade One
I grew up in the United States, where I finished high school, which means that I have first-hand knowledge of the American grade school educational system. I moved to Kurdistan in 2012 to study English at the University of Duhok, and upon graduating, I studied for a Master's in English Literature at the University of Nottingham in England returning again to Kurdistan in 2017 with teaching credentials.
The last couple of years I have been in the American International School at primary level putting into practice what I have learned in terms of modern teaching methodology and have been amazed at the progress of my students in English, math and social studies plus in terms of their social and emotional development.
Azheen Mustafa Ahmed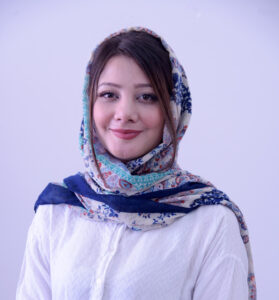 Associate Teacher – Teaching Drama, Art and Music.
I have had a lifelong love of teaching English as a foreign language and the arts. Originally from Duhok, I attended Duhok University and graduated with a B.A. in Teaching English as a Foreign Language. At the American International School, I have followed my love for the arts, inspiring our students to act in plays, draw, and paint. I firmly believe that all students possess diverse talents and capabilities, and my goal is to give them the skills and positive support they require. At the American International School, all theatrical performances are under my supervision, a responsibility that I take very seriously.
This is when "the rubber meets the road," and parents can see for themselves what their children can do.
Asmaa Hassan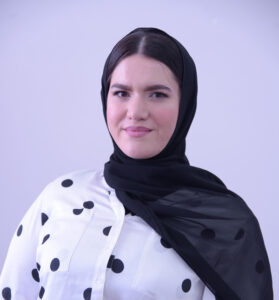 Associate Teacher – Kindergarten
I am a graduate of Cihan University with a B.A. in English. My first experience as a teacher was at junior high level teaching English in a refugee camp, providing children with creative and fun ways of learning English. I have been teaching kindergarten students mental math, phonics, handwriting, reading, music, and art. Here at the American International School, there is a lot of emphasis on social skills and working in collaborative groups. The secret to successful teaching is to promote curiosity and interest in learning through hands-on activities. We also focus on establishing positive social relationships to facilitate learning following a system of etiquette integrated into an effective teaching style to ensure students remain disciplined and attentive in class with the ultimate aim of becoming good citizens who can contribute positively to society.
the local constraints permitted finding solutions to obstacles encountered by students, teachers, and parents. It was not an easy task, but working as a team, we succeeded.
Israa Mohamad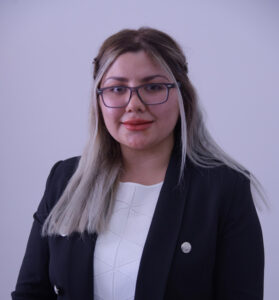 Associate Teacher – Grades Three and Four
I have many years of experience in different international schools and language institutes. Growing up, my favorite game was "school," where my friends would act as students while I was the teacher. Once I started teaching, I quickly developed strong relationships with other teachers, learning from them as much as possible. As a teacher, I believe that all students have strengths and challenges, and it is my job as an educator to work with my students to create a learning environment that will help them succeed. I believe that student learning should be hands-on, engaging, and relatable. Learning should be engaging and relevant for all the students in my class. Students must find meaning while learning and be invested in their own education.
Jiyan Nihad Ismail
Associate Teacher – Second Grade
After graduating from high school in the United States, I moved to Kurdistan and graduated from the University of Duhok, College of Basic Education. I believe in hard work, dedication, and professionalism. What I love about teaching is that it structures my life and forces me to be on time and get things done properly. But even more important is to see my students smile every day. Working with children is what gives my life meaning. Working in a classroom with students reminds me daily that life is full of ups and downs, and this inspires me to help my students think critically when facing reality and accept challenges with a positive attitude.
Reem Dheaa Behnam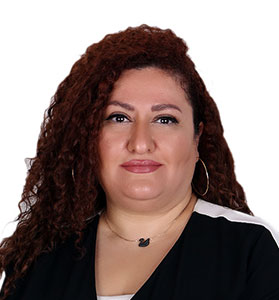 Associate Teacher – Grades Three and Four
I have a B.A. in translation from AL-Mustansiryah University and nine years of teaching experience and have taught children at all grade levels. I have a passion for helping children to learn while having fun to become lifelong learners. I firmly believe that learning should be an inquiry with a lot of role-playing and teamwork. I facilitate learning by establishing a relationship with students and creating a positive learning environment in the classroom. Planning, preparing and presenting lessons differentiated for the whole range of abilities making education an adventure designed to fulfill each student's potential for emotional, intellectual, social, and physical growth. I like to keep track of all my students to ensure they are all keeping up and meeting Common Core American standards so that they will be ready for university studies one day.