The American International School of Duhok is committed to shaping tomorrow's leaders. Presently all our lead teachers have been educated in the United States, Canada, Sweden and Holland, and we are actively recruiting new staff from abroad. Our teacher/student ratio is presently nine to one, which enables us to ensure that our students receive the support that meets international standards.
Our school is co-educational, meaning that from Pre-Kindergarten through Grade 12, all classes will always be taught in mixed groups of males and females.
Academic freedom, equal opportunity, and unity in diversity are distinctive hallmarks of our educational model. Respect for individual and cultural differences are central values. We seek to inspire the compassion and international awareness necessary for students to contribute responsibly to the global community.
We celebrate an open exchange of ideas and a spirit of inclusiveness. The active involvement of our students, their families, and staff helps create the energy and enthusiasm that characterize the experience of attending our school.
We expect all of our students to be kind, honest, and respectful. We value a strong work ethic, and we seek to instill in our students a sense of optimism and determination in the face of the challenges of modern life. We encourage our students to develop the courage to act independently and the confidence to pursue leadership opportunities.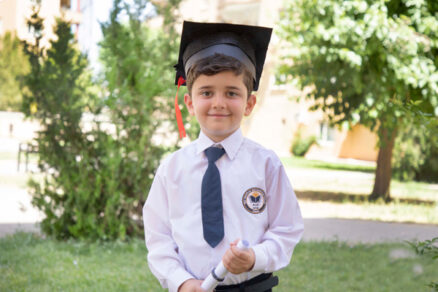 All our students will be continually assessed to measure their progress and taught to track their own pace and to identify strengths or weaknesses. Where weaknesses are identified, additional support will be provided.
In addition to a broad-based American curriculum with a global perspective, high school students will be encouraged to sit for SAT examinations as well as Advanced Placement Examinations. This will allow our graduates to study at the American University of Kurdistan, apply for admission to other national and international universities.